"Työmahdollisuuksia on lähes rajattomasti"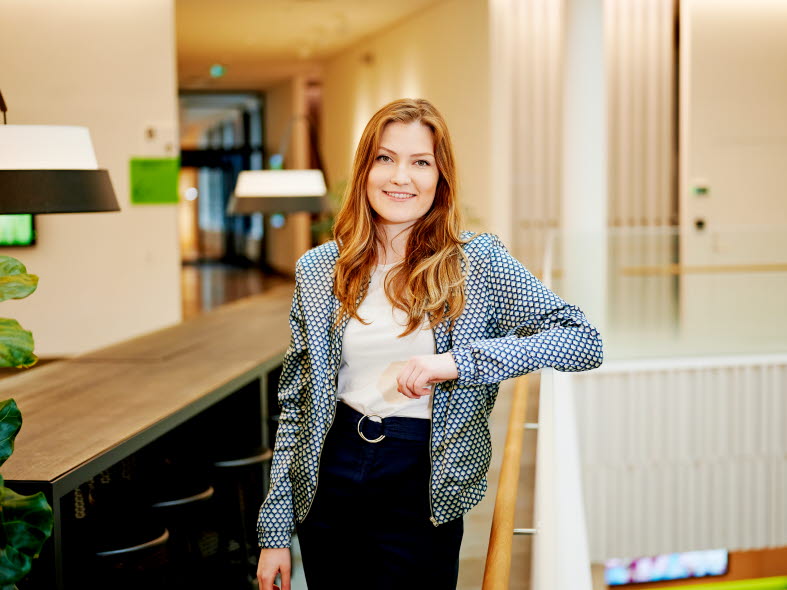 Greta Walander started her career at SEB in Finland as a KYC-Specialist and Junior Account Manager and is currently participating in the SEB International Trainee Programme at SEB in Sweden. We spoke to her about her work and experience in her current role as an Audit Trainee.
Tell us about your journey and career at SEB and how you ended up in the position that you have today?
I started as a KYC specialist at SEB in Helsinki in August 2018. KYC refers to Know Your Customer-work, as all banks are obliged to know their customers to be able to handle the risk for money laundering and terrorism financing. In the KYC team, we are in close contact with customers and keep their data updated all the time.
It works well for me to study and work at the same time. I like the time pressure and when you're at school you get the theoretical aspect, but when you work at the same time you get the practical aspect too.
Then an open internal position came up within account management which I applied for. I joined the Helsinki Internship programme, a local programme for students at the SEB Helsinki office and after that continued working in the KYC team for the last two years of my studies. When it was time to find a permanent position after graduating school, it felt natural for me to apply within SEB. I'd been curious to try something different and was also interested in moving abroad. When I saw the internal audit trainee position in Stockholm I decided to apply. What interested me about the role was the general overview you get of the bank as well as learning about different processes and products. I'd heard only positive things about the trainee programme too.
How has the Trainee Programme been so far?
At SEB there are different trainee programmes for students and recent graduates. The one I'm currently in is the international trainee programme, which is a 9-month programme for recent graduates. The idea is to get to know the whole bank, including the different sites (like SEB's offices in different countries).
There are lots of activities with the trainees; you have your main home department, but you also share common activities with other trainees. There are extra activities that the trainees work on together, which can be completely unrelated to the work of your home department. The common activities have included a business case, a hackathon and Leadership training. There's also the opportunity to do rotations within departments that you find interesting. These are self-driven and provide a good opportunity to learn about other parts of the bank.
I've done one rotation in SEB Way, which is an internal consultant within the bank. I'll also be doing one week within the sustainable banking department. The programme allows you to learn a lot about SEB and the banking industry and to connect with people from different backgrounds and with different roles at SEB. It's my final month but I will be staying within internal audit.
Tell us more about the opportunities at SEB?
There are endless opportunities at SEB, which is what makes it such an attractive employer and why people stay in the company for a long time. SEB is a large bank with many different departments, so if you want to try something different you can always apply for another position. Also, once you work within the bank it is easier to apply for other positions.
What's it been like moving to Sweden?
It's been a really eye-opening and educational experience. Moving to another country alone has made me grow as a person and made me more independent and I am so grateful to SEB for this. Work-wise it's been extremely educational as I've learned so much about the bank. In Finland SEB operations have a strong focus on corporate and investment banking. In Sweden, SEB offers universal banking services and therefore offers a great possibility to learn more about SEB and the different functions we have in the bank. The opportunity SEB gave me to travel internationally has meant I can expand my knowledge so much more. I also have really nice colleagues in my home department and the trainee programme which has made it a lot easier to settle down in a new city.
How would you describe the culture at SEB?
It's very open and encouraging. They always want you to develop and learn and encourage you to do things differently, while allowing you to make mistakes. Even if you're new to the team, people are interested in hearing your opinion. I was surprised by how relaxed the culture at SEB is; I assumed it would be stiff and hierarchical and it hasn't been that way at all. It's really easy to approach anyone.
What is the best thing about working at SEB?
I would have to say the people. Everyone is so nice and it's amazing that everyone you meet is that way. I've made a lot of friends at SEB, who I also meet outside of work.
What kind of projects are you working on at the moment?
We perform audits on different parts of the bank, which usually last for a couple of months. Currently, I am working on two different audits. It's quite common to work on a few audits at the same time.
What does a working day look like for you?
I usually have a lot of meetings where we talk to people within the departments that we're auditing to learn about the processes. Every audit is like getting onboarded to a new job because you're learning about a new process and product. So before we start performing an audit, we usually need to spend quite a lot of time studying the audit area.